Re-exploring the last great quest of the American West. Major Powell's 1869 Grand Canyon River Expedition
(Updated Blog Posting May 20th 2019 )
Have you ever wished you were born 200 years ago, so that you could live in an age with uncharted land? I'm sure I'm not the only kid who pretended to be an early explorer, discovering new territories like Lewis and Clark. Being the first to discover something new is extremely rare these days, but adventure is still out there, and this story is living proof. In 1869, my great, great grandpa, Billy Hawkins, accompanied his former Union Army cohort, General Powell, on what was called "The last great quest of the Southwest" (the very first successful voyage down the Green and Colorado Rivers). The 99-day, 1,000-mile journey through the Grand Canyon forced them to resort to extreme measures, but resulted in them literally putting the region on the map. The previously unexplored area was scarcely better known than Atlantis at the time.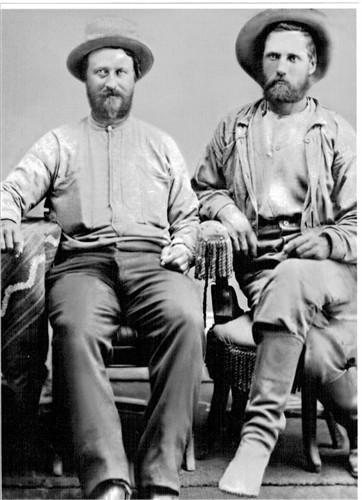 -William "Billy" Wesley Hawkins in older age.
"It was here Major Powell took off his life preserver and handed it to me, saying he would have no more use for it and would make me a present of it. I told him he had better keep it on, but he said that he felt safe with any man who could come through the way I did between the rocks, and that he would make me a present of it. I thanked him, and said I would keep it to remember the Major and the daring trip and hardships down through the entire length of the Colorado River Canyons. I have the life preserver now in my possession, although it is unfit for use by reason of old age."
I'm William "Billy" Wesley Hawkins' namesake. A Civil War soldier, mountain man, and settler of Eden, Arizona, he was one of the 10 men who dared to launch "Down The Great Unknown"on May 24, 1869. Billy, being the second youngest on the expedition, served as camp chef on the expedition for $1.50/day. His colleagues boasted that "Billy roasts the best coffee west side of the Mississippi." The adventure began in Green River, Wyoming and concluded in St. George, Utah, with only 6 still alive but near starvation. After planning for over 2 years to follow in my Grandpa's footsteps on this incredible journey, it's finally time to launch my own quest.
To commemorate Billy's trip I will be traveling in my Kokopelli Packraft mostly on the Colorado River, while camping, backpacking, and documenting the trip through the Green River, Flaming Gorge area, Canyonlands National Park, San Juan River, Little Colorado, and the Grand Canyon by means of videography, time-lapse photography, and blogging.
This summer I'm planning on exploring the highlights of the trip that I've read about in "Down the Great Unknown," by Edward Dolnick. My route will begin in Green River, Wyoming on May 26th (2 days after my grandpa launched almost 150 years ago with nine fellow ex-union Civil War soldiers). Eight of the adventurers were friends of my ancestor and men who, despite having learned to live off the land as Mt. Men, had zero experience rafting at that point. It is said that while they waited for their boats to arrive (2 days after the railroads met in Utah for the Golden Spike) that they did their best to drink the only saloon in Green River dry of its whiskey a couple of nights before they launched and were a bit hung over the first couple of days of the trek, so Michelle and I intend to do the same tonight before we launch to raft at least about 30 miles to get a feel for their launch date.
This is just the beginning of a lifetime journey I will be taking down their path, telling my own story, and attempting to recreate some of the anecdotes from their near-mythical expedition. I will be visiting the same locations, at the same time of year, with about as much experience (very little) as the 10 brave men who dared to venture in to the unknown.
I wrote this blog a year ago when I was first starting out on this grand adventure. I will soon be updating it with our recent adventures, until then, enjoy pictures from our latest trips. This summer of 2019 Nick Reedy and I will be rafting through the Grand Canyon itself as well as Gates of Lordor, Cataract Canyon, and More.
Follow along on our journey and subscribe for Trip updates!