This is my Story
Adventure and admiration for the the Southwest, are in my DNA!
I grew up learning about the legends of my ancestors that i'll tell you about in a moment, but I was also very fortunate to live much of my youth near breathtaking scenery. My name is Wes Hawkins and I'm 30 years old. I was born in Bozeman, Montana, just outside of Yellowstone National Park. After leaving the Big Sky state we ended up in southeast Utah in Bears Ears National Monument in between Arches and Canyonland National Park. Since I can remember I've always loved nature; so much that my mom used to make me wear a cowbell around my neck so that if I veered off too far, she could still find me.
Going through high school and the college years of life I lost track of my passion for the outdoors, started working a corporate job, was always partying and eventually hit a lonely rock bottom. When I started to explore what truly made me happy, content, present and fullfilled I realize that the demoninator in my unhappiness was I was living for other people, not myself. Shortly after I met my better half, Michelle, and we traded going out for for hiking. We took a five-day road trip, camping all along the Grand Canyon. Later on we took our first backpacking trip together to Havasupai, and it was obvious what I'd been missing in my life.
Five years later, I consistently photograph and document our expeditions, which include hiking, camping, packrafting, backpacking, and rock climbing. Letting go of material pursuits, while investing my time and money in creating memories, is the best thing I've ever done. Not to mention what I save by not blowing paychecks at bars.
"A people without the knowledge of their past history, origin and culture are like a tree without roots." - Marcus Garvey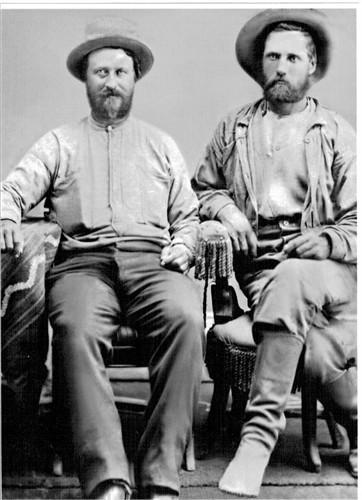 Namesake: William Wesley Hawkins (on right)
From Cavalry Man to Trapper, Hunter, Mountain Man, Teamster, Wilderness guide, Camp Chef on 1869 Major Powell, first expedition through Grand Canyon, Western explorer, Friend of the American Indians to early Settler of Eden, Arizona, Religious Leader, and Justice of the Peace, he certainly lived a full life.
After digging around my family history, I felt privileged to discover that my Great, Great Grandpa William Wesley Hawkins (who I was named after) was a part of what's since been referred to as "The last great quest of the American West" with General John Wesley Powell on the very first voyage down the Colorado River in 1869, which was completely uncharted at the time and was marked "unexplored" on the map.
Only seven of the 10 men who dared to go on the 99-day journey made it home alive. As the youngest member of the team, held responsibilities as the camp chef, handyman, hunter and guide. William proved himself a friend to the natives and one of Powell's most valuable hunters &recruits, having a Mt. named after him called "Mount Hawkins" in Grand Canyon.
I'm ecstatic to follow in their footsteps this summer, starting in Green River, Wyoming on May 24th with the love of my life, Michelle. This is the same day they launched nearly 150 years ago, all the way through the Grand Canyon. Stopping at all the most memorable locations described in the accounts of their exploration, I plan to chronicle my experience in my blog - check it out for more details!